WPHelpDesk can be translated to any language (including RTL languages) like any other WordPress plugin, the easiest way to do this is to use Loco Translate plugin, it will generate po/mo files from your current WPHelpDesk version.
This tutorial applies to all our add-ons as well, the only difference is that in second step you need to select your add-on instead of WPHelpDesk.
Translating Using Loco Translate
1. The first step is going to your site wp-admin / Plugins / Add New panel,  in the search box (top right) search for "Loco Translate" and install it.
2. Once you have the plugin installed and activated go to wp-admin / Loco Translate / Manage Translations panel, scroll down to WPHelpDesk and click "New Language" button next to it (see screenshot below).
3.  In new panel select your language and click Start Translating button.

Important! If you do NOT want your translation files overwritten on WPHelpDesk update check the "create in global languages directory" radio button.
The "create in …" radio buttons will be visible only if directory wp-content/languages/plugins exists on your server.
4. You will be taken to a new page where you can translate all the WPHelpDesk phrases, it should look similar as in the screenshot below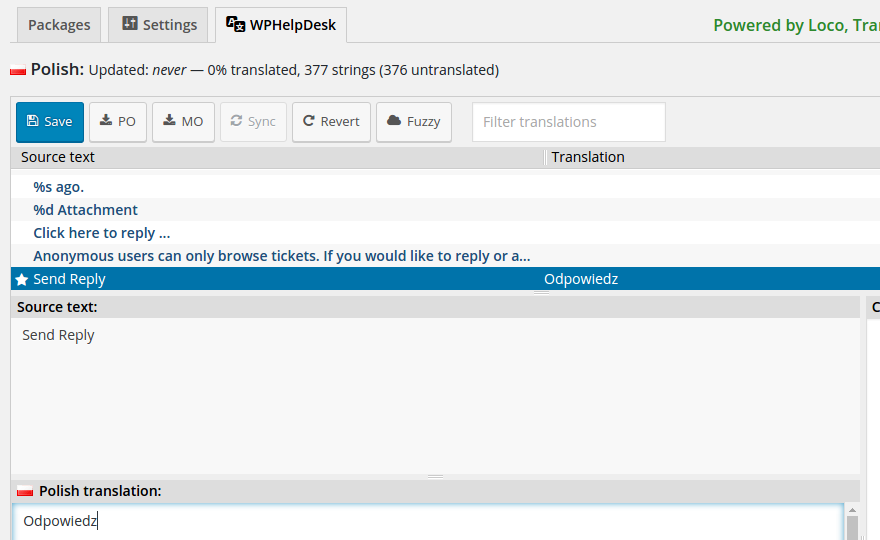 Once you are done remember to click "Save" this will generate .mo file.
Notice the "Sync" button above, this is a tool you can use after upgrading to latest WPHelpDesk version (the chances are new version will have some new phrases or some old phrases customized). The Sync will re-scan WPHelpDesk source and show phrases you need to translate if any.
Manual Translation (Advanced)
If you wish to use some other software for translation for example POEdit, you will need to follow this steps:
from wp-content/plugins/wphelpdesk/languages directory download wphelpdesk.pot file to your computer.
open the file in POEdit (or some other translation software), translate it and save as wphelpdesk-lc_LC.po (and wphelpdesk-lc_LC.mo), where lc_LC is your language code, for example for US English it is en_US, for Germany de_DE
finally upload your po and mo files back to wp-content/plugins/wphelpdesk/languages directoryor to wp-content/languages/plugins (recommended) if you do not want your files to be overwritten on WPHelpDesk update.
Share your translation
If you would like other users to be able to use your translation feel free to send us link your .po/.mo files using our contact form (the contact form does not allow to atach files so it would be best if you just link to your file).